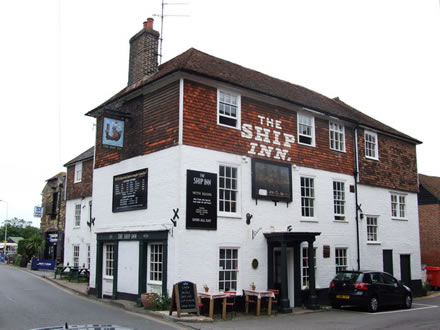 Writers' Surgery Retreat - PROPOSED COURSE • Course 148
Each November @ The Ship Inn, Rye TN31 7DB, UK
WORKSHOP VENUE
The Ship Inn
The Strand
Rye, East Sussex TN31 7DB
Date: Monday afternoon - Thursday, in November
Length of course: 3.5 days (with a 2.5-day option)
2019's prices were: Cost for 3.5 day workshop: £415 (Single room, no supplement). Non-residential: £180. 2.5-day workshop: £295. Non-residential price on request.
This bijou writers' surgery will be tailored to the needs and wishes of its participants. A surgery where you can bring work that you don't feel in control of. Where you can receive mentoring on a manuscript that needs editing or critiquing. Or both. Where you get advice on how to overcome creative blocks you may have. Or where you can get away and just write.
In previous years this course ran for 2.5 days, but many participants felt an extra day would have been perfect. The course this year will be 3.5 days, but it is still possible to book only 2.5 days.
This 3.5-day hands-on workshop will have short talks, exercises and tutorials. Writers can use the time in any way that is beneficial to them.
The sessions will allow you to:
share prepared work and receive constructive criticism
receive individual help in one-to-one tutorials
participate in group sessions to help generate material
discover how restructuring transforms a manuscript
sharpen your editorial skills
reshape and edit your own work between sessions and/or tutorials
learn correct formatting and presentation for an agent or publisher
use the time as a writer's retreat
There will be an Open Mic night after dinner on Tuesday to share prepared work (no microphone is involved).
LEVEL
This course is open to anyone with a desire to become a wordsmith, from complete beginners to published writers. The workshop will be conducted in a constructive atmosphere conducive to learning.
ACCOMMODATION
The course will be limited to a maximum of 9 participants. If you wish to bring your partner along, they would be most welcome. Please email to request the cost of a non-participant accompanying you. If you do not require accommodation, a course fee only option is available.
PLANNING YOUR JOURNEY • TRAIN OR CAR
To Rye: Rye is a 20-minute train journey from Ashford railway station, which connects to London St Pancras using the high-speed link which takes 38 minutes. Trains from London St Pancras to Ashford International leave twice an hour. From Rye: Trains leave from Rye towards Ashford 56 minutes past the hour. There is 20-minute wait in Ashford. A high-speed train will take you back to St Pancras at 43 minutes past the hour from Platform 5. Please check current timetable and platform numbers at your time of travel.
Please contact The Ship Inn for up-to-date parking info.
HOW TO GET THERE
The venue is a 5-minute walk from the Rye train station. For a map, click here. The easiest way is to go straight out of the station on Station Road. At the T-junction, turn right onto Cinque Ports Street, then first left onto Wish Ward which becomes the Strand.
ABOUT THE SHIP INN
The Ship Inn is located in the centre of Rye. Built in 1592, it was originally used as a warehouse to store contraband seized from smugglers. Inside there is a blazing fire, cosy nooks and a bar.
MEALS
The Ship Inn is a gastro pub with excellent food and includes vegetarian options. Food is locally sourced.
ARRIVAL
My course administrator will be on hand to welcome you. Check-in time is 3.00PM. After you've settled in, there will be a chance for you to speak to me about what you'd like help with during the workshop. There will be the chance to get to know each other a little before we meet on Tuesday morning. If there is a demand, we can have an Open Mic session on Monday night.
FORMAT
The workshop will begin informally on Monday night when we will warm up with an exercise, or two, to loosen up your writing muscles. There will also be an opportunity for you to gauge how I can best help with your manuscript, such as difficulties you may have with writing dialogue, editing, over-editing or expanding your prose.
From 10.30 on Tuesday I will be "on call" throughout the surgery to individually help you with your prose. If you need help with a specific problem, I will tailor the tutorial session to your needs. The mentoring will end at 5.30 on Thursday evening.
WHAT YOU'LL NEED
Paper (bound notebook preferably)
Pen & a spare
a hard copy of the work you'd like help with in your tutorials
WHAT IS INCLUDED
Residential students: course fee, 3 nights' accommodation & 3 breakfasts
Non-residential students: the course fee only
ABOUT RYE
Rye is a picturesque English town in East Sussex. The entire series of E F Benson's Mapp and Lucia was shot here. Rye has a distinguished literary history. Lamb House was once owned by Henry James and the town was also the home of writers, including Radclyffe Hall and E F Benson. Click here for a short video about Rye.
TO BOOK
By post: Enrolment will be confirmed on receipt of your £150 deposit. Payment in full is due by 12 November. Bank transfer: To book by bank transfer, call us for our account details.

This course has not yet been confirmed. Booking will become available on this page.




Mermaid Street, Rye